Have a professional inspect your investment!
There can be underlying issues or incorrectly built procedures that you may not see when viewing what is possibly your new home.
Building on structural stumps (or stilts as they are sometimes called) offers some cost saving benefits but it is critically important to the integrity of your home that you ensure these stumps are correctly installed.
Avoid Costly Oversights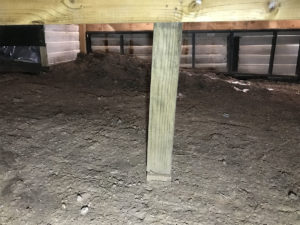 This is a photo of a house built in Victor Harbor, Adelaide South Australia which is built on stumps. As you can see this stump is sitting on a paver which is sitting on dirt. Basically this is a big red light! If any water washes beneath this property it can quite easily remove some dirt away from beneath the paving, causing it to sink. This would of course result in damage to the flooring above and significant repair costs.
All structural stumps need to be voted into the ground to a specified depth and concreted in place to eliminate any possible movement. To perform this task after the property has been established is significantly more difficult and expensive. Thanks to this potential Adelaide home owner having chosen a professional pre-purchase property inspection, they were able to avoid a costly mistake.
Ensure your property is up to scratch before you sign the papers. Arrange a professional property inspection before you buy.
INVEST WITH CONFIDENCE!